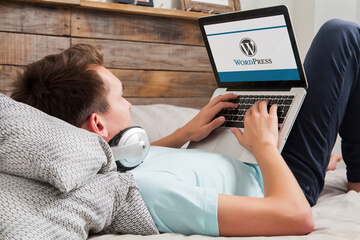 When you create a website, the goal is to share your products, services or information with as many people as possible. And to do that, you need people to visit your website and see what it has to offer. However, when you create a new website, it won't automatically appear on the first page of Google results.
You have to optimize it for SEO to make it visible and we will show you how to do it with WordPress.
In just a few steps, you will learn how to set the foundation for WordPress SEO in 2020.
Why is SEO important?
SEO strategies take into account search engine algorithms, helping you build the authority and visibility of your website. SEO is a must for any successful digital marketing strategy, whether you are using WordPress or any other platform.
Is WordPress good for SEO?
WordPress has been one of the most popular website CMS for many years. It started out as a blogging platform, but has become increasingly popular as a website platform in recent years.
It offers customizable themes and a wide variety of tools, extensions and widgets.
It has some great website building tools that make it very SEO-friendly.
It is also an affordable platform with excellent technical support and a lot of available resources.
WordPress suffers in some respects when it comes to SEO. It is very complicated on the backend. You may need an SEO expert and a professional web developer and research to implement more advanced SEO.
However, most of the cases don't require an expert as SEO can be set up on the platform. You will just have to choose a plugin and learn how to use it.
WordPress websites can also be negatively impacted by Google's mobile-first indexing.
Step-by-step WordPress SEO setup: how to do SEO on WordPress yourself
WordPress can provide a solid foundation for good SEO, but there are many things you can do to make your website more visible to search engines. Here is a detailed list of how we manage SEO on WordPress.
1. Optimize the URL structure
You will have to choose the correct permalink structure from the beginning or you may have SEO problems later on. An easy way to structure your URLs is like this: yourwebsite.com/category/sub-category/product-page.
This URL structure is called "pretty URL" and you can enable it from the Settings> Permalinks menu within WordPress
2. Choose between www or non www
Do you want a website that looks like "www.xyz.com" or just "xyz.com"? This does not usually affect SEO, but if both versions exist, it will get you in trouble with Google. It's mostly a matter of personal preference, but it's something you might want to think about.
3. Set your site's SSL certificate (HTTPS)
The next step is to set up an SSL certificate, which is now required if you want to show in search engines. Up to 90% of the search results of page no. 1 on Google will definitely be HTTPS.
4. Install the Yoast SEO plugin
Previously, we mentioned that WordPress includes a lot of useful plugins that can make your life easier. Yoast is one of the best plugins that do a great job. Thanks to its easy-to-use tools, Yoast can help you a lot with SEO and content optimization on web pages and blogs.
5. Check Google, Bing and Yahoo
Next, you should submit your website to search engines (such as Google, Bing, and Yahoo) and verify ownership. This way, you can monitor your website performance, view keywords, receive broken link alerts and linkbacks, and get a lot of valuable data about these search engines.
6. Optimize your XML Sitemap (exclude irrelevant content pages)
This lets search engines know when your site has been updated. Yoast automatically configures * XML Sitemaps, making things easier.
Optimize your Robots.txt file - This is a file placed on your site's server to instruct search engine robots on how to crawl and index files in your domain. There are two ways to edit robots.txt in WordPress:
Use Yoast> Tools> Editor to fix it.
If not available, install the "Virtual Robots.txt" plug-in
Note: Make sure you add the XML Sitemap in the robots file.
Create HTML sitemaps
Many websites can benefit from an HTML sitemap in addition to an XML sitemap. The "Simply map" plug-in makes it easy.
7. Optimize your site for speed
A good website is a fast website. Nowadays, websites need to have high quality images and designs, but they still need to load almost instantly, otherwise you will lose visitors. Loading speed affects your SEO both directly and indirectly. We recommend an image optimization plugin like Imagify and a cache plugin. Also, it's a good idea to change the settings for minimizing, slow loading, and CDN delivery.
8. Install schema markup
If you run a local business, an online store, or are an influencer, this is very important. Help search engines deliver valuable results to visitors looking for you on Google. Here are some of the plugins we regularly use and recommend for basic schema markup: All In One Schema Rich Snippet, WP Review, snip - The Rich Snippets & Structured Data Plugin, and Schema.
There are many ways to set up SEO on WordPress and optimize it according to your needs. As industry professionals, these are our suggestions. However, SEO is constantly evolving. If you want to stay in that coveted Google search space, you need to keep up with the changes and continually optimize. Check out our SEO management service to get affordable all-in-one SEO assistance for your business.