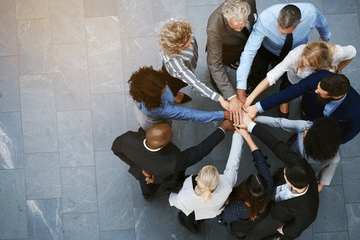 There are many reasons to look forward to 2021. Even in the world of digital marketing, the future looks bright. The coronavirus pandemic has brought online technology to more people as we have become accustomed to working, socializing and teaching our children from home. And, just as there was a sense that people are starting to rethink their values and remember what is truly important to them, so social values and sustainability are at the top of next year's digital agenda. Here are the trends we think will dominate in 2021.
Trend 1 - Coming again: the rise of re-commerce
According to Thredup's 2020 resale report, the second-hand market will reach a value of $ 64 billion by 2024. Online resale of used goods will overtake the traditional model of buying goods in thrift stores. Many consumers have had to tighten their belts because their finances have been hit. Others will have found themselves rethinking their shopping habits due to a change in their values. Climate change, waste and pollution from overconsumption are issues that have become more pressing since long before the pandemic arrived. Younger generations, in particular, worry about these issues and look for brands that have found ways to "reuse" - keep things out of landfills by recycling and reusing and using the earth's resources more responsibly. One example, furniture giant IKEA, which recently launched a "take-back" service that allows customers to return their products to the store for resale, in exchange for coupons.
Trend 2 - Brands that live their social values
To be successful in 2021 and beyond, brands will need to think about what their social values are and understand how to express them authentically.
Trend 3 - Too cool for school: personalized online training
If you were to look for positive outcomes in the year of the pandemic, one would be the great strides made by online learning. With schools closed and classrooms empty during lockdowns, remote classrooms have become the new normal. And adults with more time to spare found that you could learn everything - from languages to cooking skills, to chess and ukulele - over the internet, whether through live streaming lessons, distance learning apps, Zoom or YouTube. Online learning has become more accessible and accepted in 2020. And in 2021 it will continue to develop and adapt to the needs of students, young and old. Trends in the online education space will include micro-learning, where lessons are broken down into easy-to-digest blocks (in the style of the Duolingo language learning app) and gamification, where lessons are fun, interactive. and more like playing time than school time. The future of e-learning, in particular, is that it will be increasingly personalized. Your location, device and time zone will be irrelevant as you will be able to create a data-driven education plan tailored to your learning style and preferences.
Trend 4 - Listen: the voice will rule the family
As voice technology becomes more advanced, accepted and trusted, we expect it to begin replacing touch as a preferred search method in the coming year. In the coming year, many of us will have or think we have an extra family member. And he is one who will cling to your every word and follow every command. The forward gear of voice assistants, such as Siri, Google Assistant, and Alexa, shows no signs of slowing down. According to this study, over 50% of British households see their voice assistant as "another member of the family". Additionally, the 90% says it expects to continue using voice technology at the same or higher level. This trend was driven, in part, by the coronavirus pandemic. Young people in particular have become accustomed to smart speakers as the main source of news and entertainment during blockades. Additionally, savvy brands have seized the opportunity to provide them with voice apps. Voice technology will become even more sophisticated in the years to come and consumers will accept it more. We anticipate that voice may begin to replace touch as the preferred search method.
Trend 5 - Brands will need to improve video games
For top brands, games are a particularly attractive platform for connecting with customers. Marketers can interact with a large, targeted and hyper-focused audience, and the creative possibilities go far beyond just advertising. Players can dress their avatar in Gucci, Louis Vuitton or a host of other fashion brands thanks to a type of product positioning known as "skinning". The gaming world has long been free from its image of the sad (usually male) teenager in their bedroom with only their video console for company. The game today appeals to a much wider demographic and, far from being the realm of loneliness. And it became the new social network. The most popular games these days are virtual spaces where people can hang out with their friends and make new ones. Get the hugely successful multiplayer Fortnite. Players go there to collaborate, chat, create games for each other, and even attend events. DJ Marshmello's concert, hosted on Fortnite last year, attracted 10 million spectators. For brands, games represent an irresistible marketing opportunity. They provide an already engaged, hyper-focused and targeted audience, and the creative possibilities are nearly limitless. Simple ads are old school: think of sophisticated product placement, like "skinning" where fashion brands "dress" avatars with luxury clothing. We believe this type of in-game marketing will grow in the next year as more and more brands get involved.